Holiday and celebration packages
Holiday and celebration packages
Celebrate in style with Denni's Catering. Relax and be pampered with one of our Thanksgiving or Holidays menus.
Thanksgiving
Enjoy your Thanksgiving dinner at home with family and friends. Relax and let Denni's Catering cook their fabulous traditional turkey dinner for you. The order is per turkey.
Traditional Roasted Turkey Served with the following: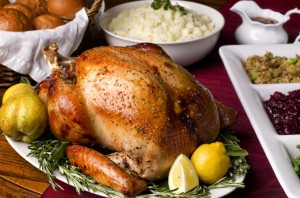 Traditional Roasted Turkey
Butternut squash Cream soup
Homemade Stuffing (please select 1 option)

Apple stuffing & dressing
Rice Stuffing & dressing
Sausage, apple, cranberry & dressing

Homemade cranberry relish
Fresh steamed mixed vegetables
Regular or sweet mashed potatoes (please select 1 option)
Homemade gravy
Baked rolls
Apple pie or Pumpkin pie – (please select 1 option) served with whipped cream
Price $377 USD for one turkey (8-10 people) delivery only.
Price $696 USD for two turkey packages
Delivery and tax included. Please confirm if you prefer to receive the whole Turkey or sliced. We deliver from 10:00 a.m. to 5:00 p.m.
Christmas
Holiday Menu (4 person minimum)
Available December 24th until 4:00 pm (with service) or 5:00 pm (delivery only) For availability make your reservation at least 48 hrs. prior.
–CLOSED – December 25TH–
Holiday Package #1 – Cost per person $ 65usd
Fresh Lobster ceviche in cucumber cup
Smoked Salmon canapé on bread with capers, onions parsley & butter
Christmas salad (3 types of lettuce, sun-dried apples, walnuts, cherry tomatoes, avocado & chives, with Raspberry cider & apple vinaigrette)
Christmas turkey – Filled with mango chutney stuffing
Home-made Cranberry relish
Steamed mixed vegetables
Regular and sweet mashed potatoes with gravy
Christmas Chocolate Cake
Holiday Package #2 – Cost per person $70usd
Vietnamese Roll with lobster
Brie cheese filled with mango chutney, served with crackers & crostini
Tortilla Soup
Royal Paella (lobster, jumbo shrimp, mussels, octopus, calamari, clams, crab)
Apple Pie, served with whipped cream
Holiday Package #3 – Cost per person $75usd
Fresh Lobster ceviche with tortilla chips
Chicken Satay brochette with peanut sauce
Cold Shrimp with Denni's tartar sauce
Salad –(lettuce, dried fruits, nuts, cherry tomatoes, beets & jicama julienne)
Beef Wellington
Scalloped potatoes with Swiss cheese
Grilled mixed vegetables
Chocolate cake with hot chocolate sauce