About
About Denni's Catering: A brief history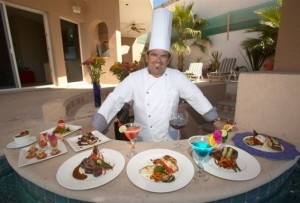 Founder Denis Gabriel is not quite your typical Frenchman. After attending the famed "Ecole Hoteliere" culinary school in his native Marseille, Denis caught the travel bug and worked his way through a multi-years worldwide adventure before landing in Los Cabos to become the ultimate caterer. On the way, Denis gained precious international culinary experience in some of the world's most prestigious hotels and restaurants, such as:
The Royal Festival Hall, one of the world's leading cultural performance venues,
The prestigious Savoy Hotel,
The Intercontinental Carlton Hotel during Cannes' International Film Festival
The London Mayfair, the archetypal five-stars hotels, where he worked as chef de partie
Hotel Fleur du Lac near Geneva, Switzerland
The Windsor Hotel and the World Trade Center in Melbourne
Denis also gained firsthand experience of the essential ingredients of gastronomy, picking grapes in Australia, harvesting coffee, black pepper, cloves and cinnamon in remote Asian jungles. All of his international travels and experiences helped to hone his culinary skills, with a good understanding of the entire food chain, from the tree and the earth to the table.
Serendipity and a series of fortunate events landed Denis in San Lucas in 1995 with $1 in his pocket. After all his wanderings, Denis felt he had found home at last. He met his future wife, Claudia, owner of El Callejón, an upscale furniture, design and gift store. Denis soon started cooking for his neighbors in the upscale Pedregal residential area, which by word of mouth led to weddings and corporate events, and eventually grew into the largest catering business in Los Cabos.
With his extensive knowledge and broad international experience, Denis can meet all the challenges of catering for private homes,  weddings, corporate parties and events of any size and complexity. His repertoire includes all types of international and fusion cuisine from French, Asian, Italian, Indian, Mediterranean and Mexican.
Denni's Catering has over the year gathered an impressive roster of prestigious clients including some of the world's largest corporations such as Ford, Microsoft, and Volkswagen, as well as sports and entertainment celebrities. Denni's Catering actively participates in the largest community events in Los Cabos, such as the International Cabo San Lucas Film Festival,  Sabor a Cabo ("Taste of Cabo" Culinary Festival) and Chefs al Rescate (Chefs to the Rescue).
US tel: 213-787 5249 – Mexican tel (52)-624-143 0449 – info@denniscatering.com
Owner: Denni's Gabriel Chabert
denis@denniscatering.com
Administrator: Araceli Rayas
araceli@denniscatering.com
Operation & Logistic: Marcos Orendain
marcos@denniscatering.com
Follow us on social medias